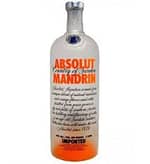 Sale!
Absolut Mandarin Vodka
-15%
Product images are for illustrative purposes only and may differ from the actual product due to label and design changes. Please contact us first if you are looking for specific versions. Otherwise, we ship based on the product name.
Absolut Mandarin Vodka
Absolut Mandarin Vodka Sweet, easy-to-peel little things. And less of a hassle than oranges. No need to cut them in slices. Or peel them for ages. Or eat them with a napkin and then never get rid of the stickiness, no matter how many times you wash your hands.
Yes, we have a thing for mandarins and while everyone was making orange flavored vodka, we did what we usually do; something different. Absolut Mandarin Vodka was a hard one to make, but is ridiculously simple to mix. Just add Ginger Ale or Ginger Beer for a perfect weekend drink.
Enjoy bright, summer sun, clear skies, and bold citrus flavors with Absolut Mandrin. Crafted in Ahus, Sweden, using fresh fruit, no added sugars, and locally sourced winter wheat with pure deep well water, Absolut Mandrin has all-natural ingredients.
Every batch is distilled continuously with the methods pioneered by Lars Olsson Smith until it achieves the consistent level of high quality that you expect from Absolut vodkas. Experience a vibrant citrus burst each time that you sip Absolut Mandrin on the rocks, or include it as an ingredient in your favorite cocktails, such as an Orange Martini or a Mandarin Mule.
Add one part Absolut Mandarin Vodka to three parts ginger beer in a highball glass over cubed ice and garnish with an orange slice for a vibrant drink bursting with flavor. The full-bodied, authentic orange flavor of Absolut Mandrin makes this an undeniably versatile vodka.
Flavored with orange and mandarin extracts and packaged in a classy frosted bottle, Absolut Mandrin is perfect for summery cocktails.
The taste of summery orange peel and citrus fruits pair perfectly in this truly mandarin flavored vodka. The fruity and fresh character of Absolut Mandrin is as rich as it is smooth.
Nose:
Fresh orange aroma.
Palate:
Fruity mandarin and note of orange peel.
Finish:
Fruity finish.