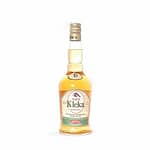 Stara Kleka Klekovaca Plum Brandy 750ml
Sale!
Stara Kleka Klekovaca Plum Brandy 750ml
-10%
Product images are for illustrative purposes only and may differ from the actual product due to label and design changes. Please contact us first if you are looking for specific versions. Otherwise, we ship based on the product name.
Origins Stara Sokolova is based on a centuries old tradition of the Bogdanovic family from the village of Kostojevici near Bajina Bata. The name Stara Sokolova, meaning "Old Falcon's", is derived from the historical name of the watershed of the river Drina in Western Serbia, so named after the medieval fort town of Soko (Falcon). Role of rakija in a household In this Region of the Falcon, the tradition of cultivation of plums has always been of the utmost importance. Plums have always been eaten fresh, dried for winter, and used for making jams and other traditional preserves. Most of the harvest, however, was reserved for producing the natural distilled brandy known as rakija. Good rakija was not only a source of pride for the household, but also the basis of its economic wealth. Before the development of the modern economy and finance, rakija was the primary means of saving for the future. Aging it was not harmful, but in fact enhanced its depth of flavour and therefore its quality and value. Families were recognized by how how good their slivovitz was. Family Bogdanovic The Bogdanovic family from the village of Kostojevici has been known for almost two centuries for the high quality of their rakija produced from the traditional plum variety of trnovaca. This exceptionally smooth and silky rakija has been sold throughout Western Serbia for many generations. Stories of their rakija have even been described in literature such as in the book "Cocktail Manhattan" by Milomir Djukanovic. Stara Sokolova Today Over many generations, and in collaboration with leading experts in the field of fruit brandy production, the Bogdanovic family has honed and refined age-old techniques for producing rakija. The modern production of Stara Sokolova is now in its third generation in the Bogdanovic family, and in the last two decades has been the recipient of numerous awards in Serbia as well as abroad as the awareness and popularity of rakija has become more widespread outside of South Eastern Europe.Stara Sokolova has become a symbol of Serbia, and appears prominently on tables during festivals and celebrations. It is available alongside single malt Scotches and Congacs in fine hotels and restaurants throughout Belgrade and Serbia, and is now exported to countries across the world from Canada and the United States on one side, to Australia on the other.
| | |
| --- | --- |
| Category | Brandy |
| Region | Serbia, Brandy |
| Brand | Stara |
| Alcohol/vol | 40% |