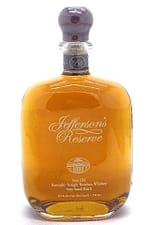 Jeffersons Reserve Very Old Very Small Batch Bourbon Whiskey 750ml
Sale!
Jeffersons Reserve Very Old Very Small Batch Bourbon Whiskey 750ml
-20%
Product images are for illustrative purposes only and may differ from the actual product due to label and design changes. Please contact us first if you are looking for specific versions. Otherwise, we ship based on the product name.
In 1997, when Jefferson's Reserve Very Old was first starting out, we found a 15-year-old bourbon that we immediately knew was rich, complex and needed to be brought to market. It was in 2003 that we decided to bring in other bourbons to marry with the original Jefferson's Reserve. Similar to Jefferson's, we still use over 50% of that mash bill and add up to 3 more bourbons to create more flavor and complexities. Jefferson's Reserve is a big, sophisticated bourbon that has a lot of flavor up front, a lot of weight mid palate and a deep, wonderful finish.
The bigger, higher proof brother to the standard (and also excellent Jefferson's), Jefferson's Reserve Very Old is a well-aged, medium bodied bourbon. The previous edition was labelled as a 15 year old.
A flat, rounded, skimming stone-like shaped, knob-topped bottle proclaims its contents to be "very old": between 12- and 17-years-old, to be exact. The Jefferson's Reserve Very Old brand name pays homage to the third President of the United States: Thomas Jefferson, instrumental in America's Independence in 1783 and the man credited with writing the Declaration of Independence. It seems appropriate that it was Jefferson himself who was at the heart of the Whiskey Rebellion in 1791, during which he repealed the tax on whiskey and turned Americans from rye to bourbon.
A very small batch bourbon from Jefferson's, aged longer than its stablemates for an extra slab of spicy complexity.
Nose:
Gentle, dried fruits, hay, warming, hints of spice, cream, vanilla. Lovely sweetness.
Palate:
Very summery, light and supple bourbon which offers good, clean delivery, pleasant sweetness, hints of cigar leaf, pepper and toffee.
Finish:
Long finish, with good oak integration, a little sweetness and dry spice lingers.