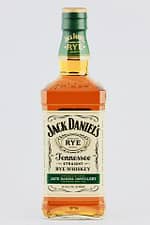 Jack Daniels Tennessee Rye Whiskey 750Ml
Sale!
Jack Daniels Tennessee Rye Whiskey 750Ml
-20%
Product images are for illustrative purposes only and may differ from the actual product due to label and design changes. Please contact us first if you are looking for specific versions. Otherwise, we ship based on the product name.
The Jack Daniel's range grew in 2017 with the introduction of their Tennessee Rye whiskey – the first whiskey from the distillery with a mash-bill that different from the classic Tennessee Whiskey since Prohibition! It features a core of 70% rye, supported by 18% corn and 12% malted barley, and enjoys the same charcoal filtration as their other expressions.
Introducing rye whiskey made Jack's way. Crafted with our 70-percent rye grain bill, natural spring water from our own Cave Spring Hollow, and Jack's time-honored charcoal mellowing process, Jack Daniel's Tennessee Rye is a whiskey that could only come from Lynchburg, Tennessee. Master Distiller Jeff Arnett and the whiskey makers of the Jack Daniel Distillery have created a unique rye that's undeniably spicy and complex yet sippin' smooth. It might be one of our first new recipes in over 150-years, but if you know Jack, you'll know Jack Daniel's Tennessee Rye.
Warm and inviting aromas of stewed cherries, white pepper, saddle leather, buttered biscuits rise from the glass. Baking spice and vanilla open up to touches of toasted oak and red berries on the palate, and a rye-forward spice offers a drying note on the finish.
Welcome to the first new Jack Daniel's whiskey since before Prohibition. Tennessee Straight Rye is made from 70% rye, 18% corn and 12% malted barley, and is put through the same charcoal filtration process as Jack Daniel's bourbons. The result is a mellow and sweet whiskey that's enlivened with distinctive rye spice.
Nose:
Fried banana, hot chocolate and a hint of toasted grain.
Palate:
Drying cinnamon and nutmeg, followed by more chocolatey notes. A touch of cooked apple appears later on.
Finish:
Black pepper and spicy oak.