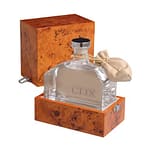 Harlen Davis Wheatley – HDW CLIX Vodka 750ml
Harlen Davis Wheatley – HDW CLIX Vodka 750ml
$624.98
Product images are for illustrative purposes only and may differ from the actual product due to label and design changes. Please contact us first if you are looking for specific versions. Otherwise, we ship based on the product name.
Situated on the Kentucky River in Frankfort, Buffalo Trace Distillery takes its name from an ancient pathway that migrating buffalo used when travelling westward. The trail was well-known among American pioneers and was eventually used by Native Americans and American settlers who crossed the Ohio River and followed the buffalo trace to the Western frontier.
The distillery, which stands as the oldest distilling site in the United States, has a rich tradition of experimentation and innovation. Just over a decade ago, Buffalo Trace Master Distiller Harlen Davis Wheatley decided to embark on a project to create the perfect craft vodka. After 10 years of trial and experimentation, he succeeded.
Wheatley graduated from Northern Kentucky University with a Bachelor's of Science degree in Chemistry and worked for a chemical company while taking classes in Chemical Engineering at the University of Kentucky. Since 1995, he has been working at Buffalo Trace Distillery and has been master distiller for nearly a decade. "Producing high quality spirits is a passion for our distillery,"he says, "so when our team set out to craft the world's finest vodka, we knew we couldn't stop until we created something truly special."
CLIX Vodka was made using soft red winter wheat, plump rye, yellow dent corn and malted barley. After the ingredients were sourced, Wheatley began the painstakingly slow process of cooking and fermenting the grains. Over the course of the next year, 28,400 gallons of mash were distilled an astounding 159 times through a custom-designed series of copper and stainless steel stills. (CLIX is Roman numeral equivalent of 159.) "It was a diligent process that resulted in 159 separate distillations," Wheatley sheepishly admits. Ultimately, only 332 gallons of vodka — enough for approximately 2,000 bottles — were produced. Once distillation was complete, the vodka was placed into cool, dark stainless steel tanks for twelve months to ensure the smoothest finish.
Following its year-long beauty rest in the stainless steel tanks, the vodka was bottled in a custom, lead-free crystal decanter designed by Nouvel Studio, a company dedicated to the artistic production of glass (a crystal stopper is included in the case, so the bottle is reusable after the vodka is consumed). In addition, the bottle is contained in a handcrafted, burl wood case that elegantly houses the decanter.
Only 2,000 bottles of CLIX Vodka have ever been made. "We are proud of what we achieved and we are excited to share this unique vodka," says Wheatley. Try the vodka that took 159 distillations and 10 years to perfect today!;
TASTING NOTES:
Polished and smooth upon entry, CLIX is pleasing on the nose and reminiscent of the essence of fresh nectar. Elegant in style, the exclusive character is a combination of exquisite smoothness and interesting nuance. It finishes quickly and cleanly, making for a delicate, refined and stylish drinking experience.
| | |
| --- | --- |
| Category | Vodka |
| Region | United States, Vodka |
| Brand | Clix |
| Alcohol/vol | 40% |