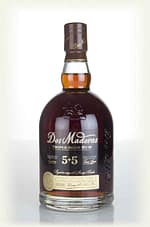 Dos Maderas Triple Aged Rum Px 5 + 5 750ml
Sale!
Dos Maderas Triple Aged Rum Px 5 + 5 750ml
-10%
Product images are for illustrative purposes only and may differ from the actual product due to label and design changes. Please contact us first if you are looking for specific versions. Otherwise, we ship based on the product name.
A 'double aged' rum, although it could be considered to be triple aged. Rums from Barbados and Guyana are matured for five years in the Caribbean before being transported to Jerez where they are further matured in solera systems of Dos Cortados Palo Cortado Sherry casks (exactly the same as the 5+3) and then also Don Guido Pedro Ximénez Sherry casks.
A blend of aged rums from Guyana and Barbados, which are shipped to Williams & Humbert in Spain. The rums are then blended and aged for a further five years in ex-sherry casks (three years in Palo Cortado and two in Pedro Ximenez), giving the finished product a fabulous complexity.
Dos Maderas Triple Aged PX 5YO + 5YO, a triple aged Rum, originates from aged Rum stocks of Barbados and Guyana. It is aged in three steps. First for 5 years in the Carribean in American oak casks, then 3 years in the Spanish facilities of Bodegas Williams & Humbert in their sherry casks which previously held "Dos Cortados" Palo Cortado Sherry. And finally, aged for another 2 years in casks used for the 20 years old "Don Guido" Pedro Ximénez Sherry. This is a very unique process for Rum production, which brings a new taste profile, a "Sherried Rum".
Appearance / Color:
Dark amber.
Smell / Nose / Aroma:
Sweet, caramel, Sherry. Notes of vanilla, cinnamon, nutmeg and roasted fruit.
Flavor / Taste / Palate:
Fruit filled Rum, with a slightly sweet sherry entry, powerful, smooth and a tad spicy. Then caramel, chocolate, tobacco, leather and honey in the midpoint.
Finish:
Long, smooth finish, with notes of Pedro Ximénez Sherry cask, liquorice, caramel and nuts.
Comment :
Very interesting exercise. A Sherry sensation.