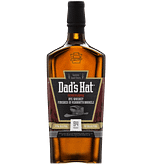 Dads Hat Rye Whiskey Finished In Vermouth Barrels 750ml
Dads Hat Rye Whiskey Finished In Vermouth Barrels 750ml
$124.98
Product images are for illustrative purposes only and may differ from the actual product due to label and design changes. Please contact us first if you are looking for specific versions. Otherwise, we ship based on the product name.
I don't often think of Pennsylvania when I think of whiskey, but perhaps I should start since, at least according to Mountain Laurel Spirits, it is the home of rye whiskey. Mountain Laurel Spirits of Bristol seems to be working on some interesting ryes. Not only a straight rye but also a white rye, a two year old rye, a cask strength rye, and two double finished ryes; both aged at least six months and then finished for an additional three months in either port wine or sweet vermouth barrels. While young, that is quite a lineup for a rye drinker like me! So, when Binny's had the vermouth finished variation on sale, I decided to jump.
This redish-amber drink is full of hope yet presents some seriously unusual characteristics. I found it's nose off-putting. It is -so- full of rye and pepper that it's hard to get to other flavors.. except for the tobacco and ammonia smells and, perhaps burnt orange rind in there somewhere. I don't know why, but the combination almost kept me from tasting it. Maybe I was expecting to smell a manhattan given the rye and sweet vermouth. Instead, I kept thinking of rotting wood and musty forests. Not exactly what I hoped for.
When I finally mustered the courage taste it, I found it to be very dry with an edge of sour. Any sweetness that you taste at the beginning fades almost immediately to the remains of a barrel of charred rye. The best part of this whiskey is the finish which reminded me of a really good fruit cake's nutty citrus flavors… as long as it was a rye-bread fruit cake. If I didn't smell it and drank it quickly, the finish was fairly palatable.