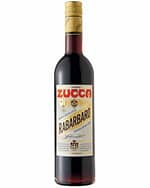 Zucca Rabarbaro Amaro 750ml
Zucca Rabarbaro Amaro 750ml
$88.98
Product images are for illustrative purposes only and may differ from the actual product due to label and design changes. Please contact us first if you are looking for specific versions. Otherwise, we ship based on the product name.
Zucca rabarbaro is a dark-amber Italian amaro that is being relaunched using its original 1845 recipe. Zucca, the story goes, started as a doctor's potion to alleviate the indigestion of a patient; the patient's husband then modified this infusion of rhubarb rabarbaro in Italian, but specifically the roots of Chinese rhubarb and medicinal herbs, orange zest, and cardamom using enough alcohol to bring the proof up to 60 and creating what became a popular after-dinner drink.
Reprising a century-old recipe, and joining the march of new and classic Amari finding wider distribution, Zucca Rabarbaro has re-launched with a revitalized flavor and more potent kick. Made from Chinese rhubarb, and with a botanical bill including bitter orange peel and cardamom, the amaro has been a bartender's darling for years. Now under the helm of Disaronno International, the new distribution has an alcohol content nearly doubled from the original of 16 percent. With a sweet, medicinal aroma, the resurrected formula is brightly bitter upfront, with thick molasses flavors smoothing to a lightly smoky sweetness and a pleasingly spiced finish.
Despite the name, Zucca (Italian for squash), this is in fact named after Zucca's bar in Milano. One of the main ingredients is rhubarb (Rabarbaro) and the taste profile has a roasted fire quality to it. A touch of cardamom and citrus zest mixes well with the gentle smoke that is expressed throughout the tasting experience. Traditional service is 1 part to 1 part Zucca to soda on crushed ice.
Zucca Rabarbaro is a delicious bittersweet Italian amaro made with rhubarb, zests, cardamom seeds, and other aromatic herbs and spices. Great stuff for a dicky tummy, or in a long drink with soda water.
Nose:
Herbaceous rhubarb, orange with smoky bacon, and gentle herbal spice with faint licorice and aniseed.
Palate:
Bittersweet, cola, burnt toffee, bitter bark, zesty orange, chocolate, and the merest hint of vegetable.
Finish:
Bittersweet leaving a candy orange taste with an herbal finish.