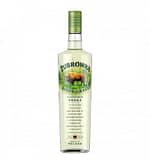 Zubrowka Bison Grass Vodka 750ml
Sale!
Zubrowka Bison Grass Vodka 750ml
-20%
Product images are for illustrative purposes only and may differ from the actual product due to label and design changes. Please contact us first if you are looking for specific versions. Otherwise, we ship based on the product name.
Zubrowka Bison Grass Vodka is a classic Polish beverage instantly recognisable from its crisp, subtle flavour profile, the blade of bison grass in the bottle, and even the majestic bison on the label. Suitable for sipping neat, but goes very well with a selection of mixers too, particularly ginger ale.
Pronounced "ZOOB-ROOV-KA" – Poland's Distinctive Bison Grass-Infused Vodka Goes Down Extra-Smooth And Packs A Refreshing, Subtly Sweet, Delicious Taste.
With origins dating back to the 14th century, this vodka owes its name to the aromatic bison grass that grows wild in eastern Poland, in the Bialowieza Forest, where bison graze. A blade of grass is inserted in every bottle by hand which gives the vodka its unique colour and flavour. It is a 100% grain vodka with a smooth, clean palate, and subtle notes of vanilla and almonds.It is The Original Flavoured Vodka.
Zubrowka Bison Grass Vodka infused with naturally sourced ingredients from the Polish forest, it truly is a taste of the wild. Perfect to enjoy with friends whenever the moment takes you, it's an ideal choice for a delicious cocktail or can be enjoyed on its own.
Bison Grass has a long history in Poland and was once the drink of nobility. Using harvested Bison grass, the grass is dried then used to flavour the spirit with a single blade left in each bottle. As quite an aromatic Vodka, it is best enjoyed ice cold and neat.
Nose:
Herbal, sweet nose with a touch of rosemary, lavender too.
Palate:
The palate offers up cut hay, citrus peels, a little cocoa/coffee mix. Herbal and balanced.
Finish:
Long finish, ending up on grass and fresh flowers.