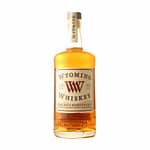 Wyoming Small Batch Bourbon Whiskey 750ml
Sale!
Wyoming Small Batch Bourbon Whiskey 750ml
-20%
Product images are for illustrative purposes only and may differ from the actual product due to label and design changes. Please contact us first if you are looking for specific versions. Otherwise, we ship based on the product name.
The Wyoming whiskies are generating a lot of attention these days! The Small Batch Bourbon is 88 proof, and the except below from the Casper Star Tribune explain a little of what is going on in Wyoming!
Among some of his descriptions were the smell of fresh-baked wheat bread, a taste of mild cinnamon and a finish of oak sawdust.
"It scored 95 on a 100 scale," he said. "The best I've ever given is 98. It's one of the best bourbons I've ever tasted. I don't give [that score] lightly."
Wyoming Small Batch Bourbon Whiskey distills, ages, and bottles their own whiskey. This isn't unusual in the craft whiskey world, but aging whiskey for five years in 53 gallon barrels is – enough to separate them from the majority of craft distillers. Story and disclosure aside, the end result is a bourbon that can stand up to others in its price range, including those bourbons produced by large Kentucky distilleries.
Nose:
Raisins, cherries, and cornbread mingle with one another. Floral notes also come into play, offsetting the sweeter elements. Nothing is overpowering, but the scents are potent enough to invite you in.
palate:
Peppy and bright. For the proof it's full-flavored and mouth coating, but still has a perceivable lightness to it. Despite this, the flavors are rather pointed in their delivery. A heavy dose of sweet raisins is most evident, along with brown sugar and caramel. The sweeter side is nicely balanced against savory flavors of chewing tobacco and burnt wood, making for a layered and somewhat unique tasting sip.
finish:
Decently long, the finish lasts for quite some time. Sweeter notes give way to more savory ones, with tobacco and burnt wood being most prominent. The finish becomes dry towards the end, with a prominent astringency taking hold as it fades away. While the finish starts off really well, the transition towards astringency is impossible to ignore.