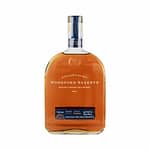 Woodford Reserve Kentucky Straight Malt Whiskey 750ml
Sale!
Woodford Reserve Kentucky Straight Malt Whiskey 750ml
-10%
Product images are for illustrative purposes only and may differ from the actual product due to label and design changes. Please contact us first if you are looking for specific versions. Otherwise, we ship based on the product name.
Woodford Reserve Kentucky Straight Malt Whiskey is Woodford's fourth permanent line extension in their Distiller's Select portfolio, which also includes the original Woodford Reserve Bourbon, Woodford Reserve Double Oaked, and Woodford Reserve Rye. Woodford's Straight Malt Whiskey just meets the legal requirement to be a malt whiskey with a 51% malt mashbill. It is aged in new charred oak barrels.
NOSE:
Sweet notes of malt grain and corn are predominant, which isn't surprising given the composition of the mashbill. Beneath these lie subtle hints of baking chocolate, baking spices, toffee, and brown sugar. It's simple yet really pleasing to the senses and easy to enjoy.
palate:
The palate is a mixture of sweet and hot with the latter taking on a dominant position. Malt grain, sweet cornbread, oak, and hint of baking chocolate all commingle with a dose of peppery heat. It's surprising to have so much heat in the palate given the relatively low proof and the fact that it wasn't present in the nose at all. Its presence is a disappointment as it brings down what could be a really enjoyable palate.
finish:
The heat from the palate quickly fades leaving rich flavors of cocoa, malt, nuts, and a hint of leather. What the finish lacks in complexity, it more than makes up for in length. Surprisingly, this finish seems to refuse to let go lasting minutes after the sip. It's a nice capstone for this whiskey.
uniqueness:
Woodford Reserve Kentucky  Malt whiskey isn't a new groundbreaking category that Woodford is entering, with many American distillers having released malt whiskey products at this point. In fact, Woodford itself has released three malted whiskeys in the past including Master's Collection Straight Malt & Classic Malt Whiskey in 2013, a Distillery Series Five Malt in 2015, and a Distillery Series Malt aged in Double Oaked barrels in 2016.