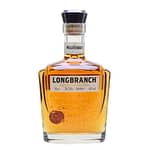 Wild Turkey Longbranch Bourbon Whiskey 750ml
Sale!
Wild Turkey Longbranch Bourbon Whiskey 750ml
-20%
Product images are for illustrative purposes only and may differ from the actual product due to label and design changes. Please contact us first if you are looking for specific versions. Otherwise, we ship based on the product name.
Longbranch is a collaboration of Wild Turkey Longbranch Bourbon creative director Matthew McConaughey and master distiller Eddie Russell. The company says it was "inspired by McConaughey's Kentucky and Texas roots, this rare small-batch Kentucky bourbon is refined with Texas Mesquite and oak charcoals a unique method that deepens the flavor and complexity of the whiskey." This is the first time Wild Turkey has released a product that features the signature of someone other than the master distillers Jimmy and Eddie Russell.
McConaughey said in the company's press release, "Longbranch, in its simplest form, is an extended hand, inviting a friend into your family. So the branch that was extended to me from the Russells was a long one, one that reached from Kentucky to Texas and back again. I offered the Mesquite from my great state to add to their legendary Kentucky whiskey and together we made Longbranch."
Although the Wild Turkey Longbranch Bourbon doesn't feature an age statement, the press release states that it contains 8-year-old bourbon. This might because they wanted flexibility in the future to change the age of the bourbon depending on their supply without also changing the label.
Nose:
A very sweet bouquet of caramel, vanilla, and toffee. Nutmeg and oak flow throughout providing additional layering. Overall the aromas are bright and enjoyable and hard to dislike. Although the nose is overall mild in intensity, it still has a satisfying impact despite its 86 proof.
palate:
Its creamy mouthfeel nicely complements the bourbon's sweeter notes of honey and orange. Spice is layered throughout and seasoned oak provides a sturdy base. It's well balanced and pleasant.
finish:
A pop of heat followed by mild dryness power the finish. Caramel and spice trail off giving way to a hint of smoke on the backend that is gratifying but fleeting. Nicely constructed and a fitting end to this bourbon.