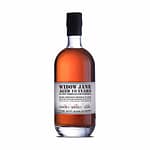 Widow Jane 10 Year Old Bourbon 750ml
Widow Jane 10 Year Old Bourbon 750ml
$175.00
Product images are for illustrative purposes only and may differ from the actual product due to label and design changes. Please contact us first if you are looking for specific versions. Otherwise, we ship based on the product name.
Widow Jane 10 Year Distillery was founded in 2012 and is owned by Cacao Prieto. Founded by the inventor Daniel Prieto Preston, the company produces a number of whiskeys that are both sourced and distilled in-house. With an office in Brooklyn, NY, and a distillery 105 miles north of NYC in Red Hook, NY. The whiskey gets its name due to the fact that the company uses water that comes from the Widow Jane 10 Year Mines in Rosendale, NY. The bourbon is produced in Kentucky and brought to New York for proofing and bottling.
Nose:
Classic bourbon traits waft to the forefront including corn, oak, barrel char, and vanilla. Beneath lay slight hints of apple and raisins. As can be expected for a 91 proof bourbon, there is no ethanol present at all. Sans the flavors themselves being slightly muted, overall the nose is everything you would want out of a classic style bourbon.
palate:
The palate starts surprisingly sweet with corn and vanilla mixed with light orange and cherry. There is a surprising dose of heat comprised of rye spice and pepper which commingle nicely with the flavors. For a 10-year-old bourbon, the lack of oak in the palate is surprising. A really pleasant sip.
finish:
The heat flares up at the start of the finish but quickly subsides. What remains is a very weird mix of flavors. A dose of pepper is present along with a strange astringent taste that tickles the back of my throat. This is further mixed with a soap-like oaky flavor profile. This lingers for a while, and unfortunately ends this bourbon on a sour note. To be sure it wasn't my glass, I tried out a different Glencairn that I cleaned thoroughly with water and had the same result.