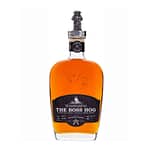 Whistlepig The Boss Hog Vi Rye Whiskey The Samurai Scientist 750ml
Sale!
Whistlepig The Boss Hog Vi Rye Whiskey The Samurai Scientist 750ml
-20%
Product images are for illustrative purposes only and may differ from the actual product due to label and design changes. Please contact us first if you are looking for specific versions. Otherwise, we ship based on the product name.
Here's something unusual, even for WhistlePig: 16-year-old rye, made in Canada using koji during fermentation, and finished in barrels seasoned with umeshu, a plum liqueur. Although master distiller Dave Pickerell had earmarked the liquid as a potential fit for the Boss Hog series, he did not live to see it come to fruition. There are 90 barrels being bottled, all as single barrels at barrel proof, with estimated ABV between 60% and 61%. Whiskey Advocate.
The Samurai Scientist officially denoted not as The Boss Hog 6 but rather The Boss Hog is wholly unlike anything else in the WhistlePig stable. The trick? The whiskey was distilled in Canada using koji fermentation techniques and, after spending 16 years in oak, it is finished in barrels seasoned with umeshu, Japanese plum wine.
Samurai Scientist will be the first release of The Boss Hog since the passing of WhistlePig Master Distiller Dave Pickerell late last year. The line was a place for him to release high-end, experimental, well-aged rye whiskies. Previous members of The Boss Hog line have included The Spirit of Mauve, finished in apple brandy barrels, and The Black Prince, award-winning rye finished in Armagnac casks.
Appearance: 
Burnt orange, topaz, reddish rust. Note about the bottle, Whistle Pig crafted a samurai-dressed pewter topper in memory of Jokichi Takamine, the "samurai chemist" who taught koji fermentation to American whiskey makers in the 19th century.
Nose: 
Barrel strength, so a lot of alcohol upfront. Beyond the initial hit, could pick up a hint of citrus, as well as toffee and clove.
Palate: 
A heck of a lot of citrus and rye spice. In the middle found notes of tobacco and baking spices, with a long finish of caramelized sugar and oak. This one was really complex, offering a bouquet of flavors throughout.