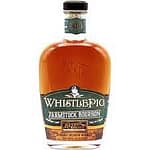 WhistlePig Beyond Bourbon (750ml)
Sale!
WhistlePig Beyond Bourbon (750ml)
-5%
Product images are for illustrative purposes only and may differ from the actual product due to label and design changes. Please contact us first if you are looking for specific versions. Otherwise, we ship based on the product name.
WhistlePig Beyond Bourbon
The WhistlePig Beyond Bourbon is a high rye bourbon made with dent corn and two varieties of rye grown on the 500-acre WhistlePig farm. Dent corn, named so because of the dimples in the kernels, has a high soft starch content capable of yielding lots of ethanol. The Remington and Rifle strains of rye are winter varieties that can withstand the cold Vermont climate.
BRAND: WhistlePig
COUNTRY: United States
STATE: Vermont
SPIRITS TYPE: Bourbon
SPIRITS STYLE: Small Batch Bourbon
ABV: 50.05%
Tasting Notes
Appearance: Coppery amber.
Nose: Acetone with lemon verbena first greets the nostrils. I can really smell the grain, but it mostly smells sweet like Cinnamon Toast Crunch. Once opened up a little more, the whiskey begins to soften.
Palate: It burns at first like nail polish remover, but past that, lemon and orange peel bring the flavor. The whiskey has a mellow sweetness compared to other bourbons, but it tastes like demerara or brown sugar. Overall, the WhistlePig FarmStock Beyond Bonded Bourbon reminds me of porridge with cinnamon and nutmeg.