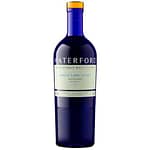 Waterford Irish Whiskey Single Farm Origin: Rathclogh Edition 1.1 750ml
Sale!
Waterford Irish Whiskey Single Farm Origin: Rathclogh Edition 1.1 750ml
-20%
Product images are for illustrative purposes only and may differ from the actual product due to label and design changes. Please contact us first if you are looking for specific versions. Otherwise, we ship based on the product name.
Waterford has embarked on an exploration of terroir — where the barley is grown matters — called the Single Farm Origin Series. The barley for Rathclogh Edition 1.1 comes from a single local farm in a lowland dale. Grown by farmer Richard Raftice, his land is well-drained where the grain ripens quickly.
Made from 100% Irish-grown barley, Single Farm Origin: Rathclogh Edition 1.1 was grown by Richard Raftice. The strategic importance of Ráthchloch (stone fort), on the old Kilkenny to Waterford road, was equally appreciated by the Vikings adjacent Danesfort. The striking vantage point looks over Richard Raftice's low lying land of quick-drying, shallow gravel soils deposited by ancient glacier meltwater ensuring it is an early sowing/ripening terroir.
Cask composition: 31% first-fill US oak, 19% virgin US oak, 25% premium French oak and 25% Vin Doux Naturel (sweet fortified wines).
Using the world's finest barley, our Single Farm Origin series is an uber- provenance range of natural whiskies that explore Irish terroir one place, one farm, at a time.
Barley-forward, terroir-driven, natural whisky. No coloring, chill-filtration or any additives whatsoever.
Each bottle of Single Farm Origin: Rathclogh Edition 1.1 has a TÉIREOIR code, which offers an unparalleled level of bottling information on the barley, maps, imagery and even audio from the farms.
Crafted with 100% Irish barley from the farm of Richard Raftice, this expression showcases the terroir of the farm, overlooked by an old stone fort. The all-natural expression was aged in a combination of first-fill & virgin US oak, French oak, and fortified wine casks.
Nose:
Fields and barnyard, black pepper, hay that's ready to be brought in, blackcurrant jam, warm vanilla, butterscotch, honeycomb, citrus zests.
Taste:
Sweet stewed apple, berry compote, pepper, mince pie, black cherries, coco chocolate.
Finish:
Has warmth with a gentle spice that lasts with some butterscotch.