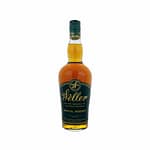 Special Reserve Bourbon (750Ml) – W.L. Weller
Special Reserve Bourbon (750Ml) – W.L. Weller
$281.00
Product images are for illustrative purposes only and may differ from the actual product due to label and design changes. Please contact us first if you are looking for specific versions. Otherwise, we ship based on the product name.
W.L. Weller Special Reserve Bourbon 750 ML Hard to find! Since the year 1849, this famous Hand-Made Bourbon has been a favorite of Connoisseurs. WL Weller Special Reserve Bourbon is made with original hand-made sour mash. It is the original wheated bourbon and is a 90 Proof Kentucky Straight Bourbon Whiskey.
Let's get this out there right off the bat – the MSRP on this bourbon is $30. You are paying $130 for it because it is so hard to find. Now, in my opinion, if you are a bourbon lover and collector, then you need to get used to paying a premium for these harder to find bottles.
So, is it "worth" the $130 mark up the price? Well, that depends on how you value bourbon. To have one of the more difficult to find brands in your collection, yes, it is worth it. Besides the coolness factor, you are getting a great-tasting bottle of bourbon.
The nose reveals the sweetness common of wheated bourbons. You should get some caramel, honey, vanilla, and light oak. The wheat grain makes for a nice sweet sip. The vanilla and caramel are quite prevalent. The finish gives you the bourbon hug, while not being overwhelming.
Overall, I love this bourbon. I wish it was widely available at its MSRP. But, it isn't. So, if you want it, you are paying a premium. To me, it is a welcome addition to my collection.
Tasting Notes:
A sweet nose with a presence of caramel. Tasting notes of honey, butterscotch, and a soft woodiness. It's smooth, delicate, and calm. Features a smooth finish with a sweet honeysuckle flair.
Reviews:Rating:
90″Replacing the rye grain in our recipe with wheat provides for an exceptionally smooth taste. WL Weller is a truly outstanding buy."Wine Enthusiast Magazine.