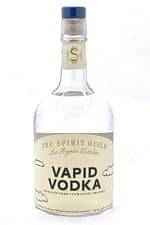 Sale!
Vapid Vodka 750ml
-15%
Product images are for illustrative purposes only and may differ from the actual product due to label and design changes. Please contact us first if you are looking for specific versions. Otherwise, we ship based on the product name.
The Vapid Vodka Spirit Guild is a collection of artists, weirdos, and dreamers dedicated to celebrating the fruits and flavors of California through the traditional art of distillation. Their tasting room and distillery are situated in Los Angeles' Arts District on a site where once thrived the state's first commercial vineyards and orange groves, just blocks from the scenic Los Angeles River.
The Spirit Guild Manifesto dictates that every aspect of production – fermentation, distillation, blending – be done in house, by Guild members. No part of the process is outsourced.
TASTING NOTES: Vodka is, by definition, neutral. This usually translates as colorless, odorless, and devoid of character. However, when this traditionally vapid spirit is distilled entirely from a base of clementines, it cannot help but reveal its sunny heritage. Vapid Vodka has a fuller body, a soft texture, and a clean, subtle sweetness. On the nose, it is enticingly fruity, with notes of vanilla custard. The finish is smooth, with a trace of citrus lending structure.
RECOMMENDED APPLICATIONS: With its full mouthfeel and long finish, Vapid Vodka is ideal in a martini. Plays beautifully with both sweet and dry vermouth. Elegant in a Vesper, Moscow mule, Salty Dog, or if you are in a retro mood, a Harvey Wallbanger.