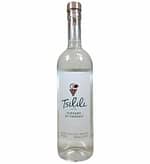 Tsilili Tsipouro Of Thessaly Without Anise
Tsilili Tsipouro Of Thessaly Without Anise
$73.98
Product images are for illustrative purposes only and may differ from the actual product due to label and design changes. Please contact us first if you are looking for specific versions. Otherwise, we ship based on the product name.
Tsilili Tsipouro Thessaly consists of the fatherland of tsipouro with a long historical tradition and the region with the largest producing tsipouro in the country. Tsipouro with the geographical indication "Thessaly" is a recognized product from the EU with particular organoleptic characteristics.
The tsipouro of Thessaly is produced from grapes grown in Greece and distilled in official distilleries within the department. Well ripened grapes of aromatic varieties, such as Hamburg muscat and roditis, in combination with double or multiple distillations in discontinuous pot stills produce a distillate with a high aromatic profile, a full body, and a soft finish.
The flavoring of tsipouro with fennel and anise was a regional tradition, although modern consumers show greater preference to the unflavored local tsipouro.
Traditional Greek Tsilili Tsipouro is one of the most famous in Greece. It is produced from aromatic grape marcs in Thessaly. Aromas of citrus fruits rose, peach and mint are dominant.
Tsilili Tsipouro is produced by the Tsililis family from the pomace of aromatic grapes varieties grown in vineyards of the Thessaly.
Tsipouro Tsilili of Thessaly is produced from grapes of high-quality aromatic varieties grown in selected vineyards of the Thessalian land under controlled conditions with respect to humans and the environment. After alcoholic fermentation, the marc is distilled in small, discontinuous, stainless-copper pot-stills using steam through a patient and thorough process.
Appearance:
(sample bottle 2013) Crystal clear.
Aroma:
Minerality, brown bread, grassy, white grapes, and fermenting pear fruit with faint rose and mint.
Taste:
Cracked black pepper, pear, and white grapefruit with more minerality and very faint clove spice.
Aftertaste:
Fruit and spice with more pear fruit.
Overall:
This is a refined tsipouro with attractive pear fruity spice.