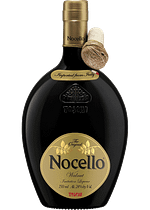 Toschi Nocello Italian Walnut Liqueur 700ml
Toschi Nocello Italian Walnut Liqueur 700ml
$95.00
Product images are for illustrative purposes only and may differ from the actual product due to label and design changes. Please contact us first if you are looking for specific versions. Otherwise, we ship based on the product name.
Nocello is a walnut and hazelnut-flavoured liqueur from Italy produced by the Toschi Vignola, its packaging is made all the more distinctive by the walnut glued to the top of each cork stopper. Toschi Nocello Italian Walnut Liqueur is perhaps not surprising that the best-known walnut liqueur should come from Italy – after all the ancient Romans highly regarded the walnut, considering it a portrait of the human brain.
The outer husk was the scalp, the shell the protective skull, and the convoluted nut itself represented the two hemispheres of the brain. Nocello was first produced by Monasteries in the Middle Ages as a medicinal elixir. According to superstition, the green walnuts must be picked on Midsummer's Day. The harvested walnuts are shelled and then soaked in oak casks of neutral alcohol on their shells for two years. The infused alcohol is then redistilled and herbs and spices added.
With brilliantly delicate notes of hazelnuts and walnuts, Toschi Nocello Italian Walnut Liqueur is a rich Italian liqueur that is just as enjoyable drank neat as it is splashed in a cocktail or even in an espresso! It comes with a walnut stopped, just in case you didn't quite grasp that it's jam packed with nuts.
Flavored with both walnuts and hazelnuts, Toschi Nocello is made in Savignano Sul Panaro, Italy. It's bottled at 24 percent ABV and often comes adorned with an imitation walnut shell secured around the neck of the bottle. The brand recommends drinking the nutty liqueur neat, over ice, or in coffee.
Nose:
Roasted nutty, balsawood and vanilla.
Palate:
Rich, syrupy nutty palate with vanilla.
Finish:
Mocha coffee and chocolate nutty finish.