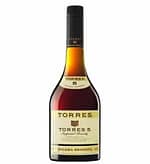 Torres Imperial Brandy 10 Year
Sale!
10%
Torres Imperial Brandy 10 Year
$68.98 
Product images are for illustrative purposes only and may differ from the actual product due to label and design changes. Please contact us first if you are looking for specific versions. Otherwise, we ship based on the product name.
Torres Imperial Brandy 10 Year
Torres Imperial Brandy 10 Year is a solera aged Spanish brandy, made by a company that certainly knows a thing or two about producing excellent grape-based beverages, as Torres has a history with top-quality brandies and wine. This was aged using a solera and features a rich, intense bouquet. As an aside, 10 is also very close to Fernando Torres' shirt number, which is 9. A happy coincidence, we're sure.
A great Spanish grape brandy from Torres, made from Catalan grape varieties and aged using a solera made from American oak.
With the passing of time, the elegant, round overtones of oak are fused, in close harmony with the strong spirituous aroma of venerable distillates that give character to Torres 10, gran reserva.
Dark topaz-colored, with fine old gold tints. Of strong aroma, it displays an intense bouquet – more spiritual than spirituous – with warm hints of spices (cinnamon, vanilla). On the palate it is round and rich in tannins, developing towards a lush and lingering aftertaste.
Torres Imperial Brandy is one of our finest brandies. We have been producing it for generations. After distillation, Torres 10 – Gran Reserva is aged in our famous family celler in hand-made oak barrels, using the renowned Spanish Solera System.
After long and careful aging, we are able to obtain the fine, distinctive character of a very noble brandy. Only then can we call it a Gran Reserva. The blend of soleras displays a fine topaz color, an intense bouquet of dried fruits with warm hints of cinnamon, and an extremely smooth palate.
Nose:
The aroma of fresh grape.
Palate:
Warm, tasty, nevertheless soft, round and supple, rich in tannins.
Finish:
Lush and lingering aftertaste.