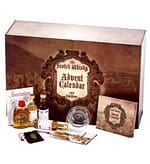 The Scotch Whisky Advent Calendar 5Th Edition 750ml
Sale!
10%
The Scotch Whisky Advent Calendar 5Th Edition 750ml
$1,024.98 
Product images are for illustrative purposes only and may differ from the actual product due to label and design changes. Please contact us first if you are looking for specific versions. Otherwise, we ship based on the product name.
The Scotch Whisky Advent Calendar 5Th Edition
The majority of the Scotch Whisky Advent in this calendar have never been seen before and will not be seen again. They are hand-picked single-barrel bottlings exclusive to this calendar. It includes a rare selection of 25 Whiskies (50ml Each) with twelve being 18 years and older.
Scotland produces all sorts of brilliant stuff, but Scotch whisky is the one that comes to our minds first. If you're in the same metaphorical boat, you might be as pleased as we were to find out that Drinks by the Dram has once again made the Scotch Whisky Advent Calendar a real thing that exists (for real)! Behind each of the 24 windows of the Scotch Whisky Advent Calendar, you'll find a different 30ml wax-sealed dram of whisky from some of Scotland's top producers, including single malts, blends, and more.
Scotland is renowned for inventing some of the world's most useful things (namely tarmac, raincoats, and the telephone) but it's also renowned for its wonderful whiskies.  Inside this wee calendar, you'll discover some of Scotland's finest expressions from remarkable distilleries. Count down to Christmas with peaty treats, rare editions, beautiful blends, and complex single malts.
24 different, handmade 30ml wax-sealed drams
Explore whiskies from across Scotland
Everything from complex single malts to rare editions
Award-winning whiskies from famous distilleries
Nose:
Honey honey honey, and more lemon honey on the nose. But mostly honey. Pineapple comes through with a little time in the glass. It's the pineapple that's been lightly charred on the BBQ. That's a great kind of pineapple note on a single malt scotch.
Palate:
Predictably sharp lemon and honey notes, and a ton of oaky spice, with a nice bright fruitiness coming in behind all that intensity. It's incredibly buttery (pastry buttery), lemon zesty, and dry toward the finish.
Conclusion:
A zinger that starts the calendar. It's hot and fast and sweet.