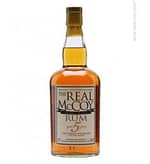 The Real Mccoy 5 Year Old Rum 750ml
The Real Mccoy 5 Year Old Rum 750ml
$84.98
Product images are for illustrative purposes only and may differ from the actual product due to label and design changes. Please contact us first if you are looking for specific versions. Otherwise, we ship based on the product name.
The Real McCoy 5 Year Old Rum is a blend of rum produced from the distillation of blackstrap molasses, using a combination of both column and pot stills. The rum is aged for 5 years in Kentucky bourbon barrels, then blended with Bajan spring water.
The Real McCoy rum's heritage is based on the story of Bill McCoy, the pioneer rum runner of the prohibition era. McCoy fueled the Roaring Twenties by delivering over 2 million bottles by sea to New York speakeasies. He became well known for always delivering undiluted alcohol, unlike other rum runners who cut the liquor with prune juice, wood alcohol, or even turpentine, That is why he and his product became known as "The Real McCoy."
5-year-old rum from the Real McCoy range. The rum spends its maturation in American oak bourbon barrels, which have helped to impart a wealth of wonderful vanilla, cinnamon, and dried fruit notes.
The Real McCoy Aged 5 Years. The Real McCoy is a rum brand with one of the few "honest" back stories. Indeed the commonly used term "The Real McCoy" was coined from the legendary rum runner Bill McCoy. Who smuggled rum into the US during the prohibition era. He never adulterated his product and as a result, people began asking for "The Real McCoy" as a sign of a quality spirit.
Profile:
Soft, Smooth, Well-Balanced, Luxurious Texture
Nose:
Oak, Dried Fruit, Brown Sugar, Earth Notes, Vanilla Hints
Palate:
Caramel, Toasted Almond, Buttery Cinnamon, Bourbon-Aged Oak
Finish:
Lingering With Toasted Coconut And Hint Of Tobacco