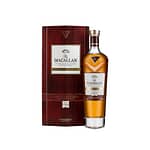 The Macallan Rare Cask Vintage 2019 Batch #2 Single Malt Scotch Whisky 750ml
The Macallan Rare Cask Vintage 2019 Batch #2 Single Malt Scotch Whisky 750ml
$575.00
Product images are for illustrative purposes only and may differ from the actual product due to label and design changes. Please contact us first if you are looking for specific versions. Otherwise, we ship based on the product name.
It's the second wonderful batch of The Macallan Rare Cask for 2019! Just like Batch No.1, it was vatted from 50 European sherry seasoned oak butts. The whisky is presented at 43% ABV in a rather lovely decanter. Sherried Macallan is always a winner, and this expression is wonderfully complex.
Crafted to showcase complexity and depth, Rare Cask is drawn from the broadest spectrum of casks, 16 different types, ever identified by the Master Whisky Maker.
The second Rare Cask for 2019. Macallan Rare Cask is a small-batch release from the Speyside favorite, bringing together just 50 sherry butts to craft a rich and fruity dram. This Macallan at its most traditional and best.
The second release of 2019 in the new series of batched releases of The Macallan Rare Cask, this Speyside single malt is crafted from some of the rarest stocks in The Macallan Estate. Showcasing the depth and complexity of The Macallan, less than 1% of the stock maturing in The Macallan Estate is deemed worthy to be used in the creation of Rare Cask Batch No.2. This 2019 release is presented at 43% abv in a sculpted, heavy glass decanter.
Far less than 1% of those casks maturing at the distillery have been identified as fitting to bestow the Rare Cask name. With rarity at its core, this is a whisky crafted from casks so rare they will never again be used in any Macallan whisky.
Combining Spanish and American sherry seasoned oak casks, a high proportion of them first fill, gives rise to an exquisite whisky with a splendidly rich hue, and an unmistakably woody whisky. Balanced by a spicy quartet of root ginger, cinnamon, nutmeg, and clove.
Nose:
Soft notes of opulent vanilla and raisin pique the nose, giving way to a sweet ensemble of apple, lemon, and orange.
Palate:
Oak resonates, timeless, polished, and rich. Vanilla and chocolate lead the finale along with the light citrus zest.
Finish:
Full and warming.