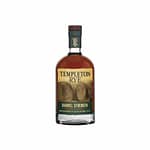 Templeton Barrel Strength Rye Whiskey 750ml
Sale!
Templeton Barrel Strength Rye Whiskey 750ml
-10%
Product images are for illustrative purposes only and may differ from the actual product due to label and design changes. Please contact us first if you are looking for specific versions. Otherwise, we ship based on the product name.
For three years running now, the folks at Iowa's Templeton have released a barrel-proof expression of their well-known rye. a sourced whiskey from MGP made with its trademark 95% rye and 5% malted barley mash. This is our first encounter with the release, though you can probably find 2018 and 2019 expressions lingering here and there on the market.
The Templeton Barrel Strength Barrel Strength Straight Rye Whiskey is bottled at 115.8 proof. This expression, taken from whiskey sourced from Indiana that has a mash bill of 95% rye and 5% malted barley. Is drawn from a select number of barrels deemed noteworthy by the distillery team. These barrels vary in ages and maturity. Being ultimately married or vatted together before finally being bottled.
We were inspired by the wonderful reception that the 2018 Barrel Strength release received and are excited to share. This new bottling with our fans that we feel is both complex and intriguing. Said Tim Grimes, Brand Ambassador of Templeton Rye, in a prepared statement. Our Templeton Barrel Strength line represents our beloved whiskey in its purest form. While allowing us to salute the hometown of Templeton and our residents' strong spirit.
Nose:
The nose is aggressive and intense, not just because it's overbearing with wood but thanks to a hefty dose of maple syrup and baking spice. The char however is hard to cut through, even with time, setting you up for a significantly savory experience.
Palate:
The palate surprises with a strong herbal and rather a green complexion. Giving the whiskey a certain gritty character that never really lightens up. Water is of some help, and don't be shy with it, though as with many immature. Cask strength spirits, the main impact is one of simple dilution rather than enhancement of flavor. The finish with water or without keeping the pedal down on the barrel char element. Though it fades out with a sort of chewy, drying, and tannic red wine note.