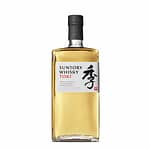 Suntory Whisky Toki 750ml
Sale!
Suntory Whisky Toki 750ml
-20%
Product images are for illustrative purposes only and may differ from the actual product due to label and design changes. Please contact us first if you are looking for specific versions. Otherwise, we ship based on the product name.
This delicately aromatic whisky smells faintly floral and nutty. In the mouth, it's honeyed with some cereal sweetness. Toasted coconut and orange peel mix with hints of bitter almond, giving way to a minty finish." 92 Points, Excellent, Highly Recommended, 2017 Ultimate Spirits Challenge
"While it may seem that our world is suddenly awash in Japanese single malts, the fact is that we're already in a shortage. Last year, as demand continued to build for its limited stocks, Suntory took the age statement off its Hibiki, suggesting less of the precious older stocks were being used. This year, they've introduced Toki, a welcome addition to the portfolio. Whereas Hibiki is a burnished, complex sipper, Suntory's latest release, Toki, is a light, bright, perky spirit with a surprising punch of flavor—apple, citrus and honey notes backed by a lingering smokiness. It makes an elegant summer whisky served on the rocks, but it also seems destined to usher the return of the whisky highball, which has become the drink of choice in Tokyo these days. It's very refreshing when made as they do, stirred over rocks in a tall glass, then joined with super-bubbly soda water and a lemon twist." Wine & Spirits Magazine, Year's Best Spirits 2016
A vivid blend of whiskies from Suntory's Hakushu, Yamazaki, and Chita distilleries, Suntory Whisky Toki™ features the quintessential characteristics of a Suntory Whisky blend: exquisite balance, harmony, and oneness. At the same time, its unique pairing of Hakushu American white oak cask malt whisky with Chita heavy-type grain whisky overturns the traditional hierarchy between malt and grain. These seemingly dissimilar but deeply accordant whiskies, together with select Yamazaki malts for additional depth and complexity, gives Suntory Whisky Toki™ its silky taste, vivid character, and bold inventiveness.