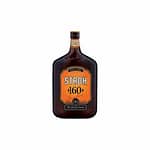 Stroh Original Spiced Rum 160 Proof 750 ml
Stroh Original Spiced Rum 160 Proof 750 ml
$105.00
Product images are for illustrative purposes only and may differ from the actual product due to label and design changes. Please contact us first if you are looking for specific versions. Otherwise, we ship based on the product name.
Stroh Original Spiced Rum is one of the strongest spirits in the world. It is known as ""The Spirit of Austria."" Complex aroma, unique taste, the ultimate super-shooter. Makes fantastic cocktails, provides finishing touches to desserts. At 80% abv, Stroh 160 delivers a robust and potent spirit popularly used as a key ingredient in festive punch recipes, representing warmth, friendliness and good cheer. It's also mixed with black tea to create a traditional warm Jagertee libation popular for after-ski festivities in Europe.
In a Scandinavian hunter's cabin deep in the frozen woods, a shot of Stroh 160 might seem appropriate to provide a warm invigorating experience, but otherwise, it's not advisable to attempt drinking it straight. Stroh Austria GmbH is an Austrian manufacturer of rum, especially spiced rums and high-proof rums used in warm drinks and cooking. The Stroh Rum brand is one of the best-known spirits from Austria and is considered by many to be a national drink and part of popular culture in Germanic speaking regions.
Tasting Notes Of Stroh Original Spiced Rum
The bold crimson vermillion color first gets your attention. Aromas of pound cake, butterscotch, assorted fruit jelly and baking spices belie its overproof nature. On the palate, an initial hint of cotton candy precedes a big explosion of overwhelming fruit flavors and high ester funk before the base of creamy butterscotch, vanilla, treacle and baking spices endure into the very long finish.