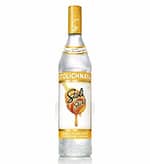 Stolichnaya Sticki Honey Vodka 750ml
Stolichnaya Sticki Honey Vodka 750ml
$76.98
Product images are for illustrative purposes only and may differ from the actual product due to label and design changes. Please contact us first if you are looking for specific versions. Otherwise, we ship based on the product name.
A sweet vodka from Stoli, dosed with honey to form one part of their 'Hot and Sticki' dual release. They were launched in 2012 to celebrate 50 years of Stolichnaya flavoured vodkas. Stolichnaya Sticki is a honey based flavoured vodka sourced from one of their first ever flavoured vodkas. Made to celebrate 50 years of Stolichnaya creating flavoured vodkas and to reinforce the heritage of Stolichnaya being the first flavoured vodka pioneers.
Launched in March 2012 to celebrate the 50th anniversary of the original Stoli herbal honey flavoured vodka, 'Stolichnaya Okhotnichya' (honey and herb) first produced by Stolichnaya in 1962. Stoli Sticki offers a honey and herb-inspired palate, with lightly sweet and floral undertones. Given its versatile yet distinct flavor profile, the base pairs well with everything from citrus and ginger to vanilla and berries.
Stoli Sticki has a honey and herb inspired flavours, with light sweet and floral undertones. It has a distinctive yet versatile flavour profile. It works well with anything from citrus, ginger to vanilla and fruit berries.
Origin: 
 Latvia
Brand: Stolichnaya
Tasting Notes Of Stolichnaya Sticki Honey Vodka