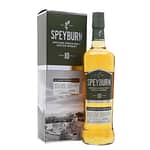 Speyburn Single Malt 10 Years
Speyburn Single Malt 10 Years
$123.00
Product images are for illustrative purposes only and may differ from the actual product due to label and design changes. Please contact us first if you are looking for specific versions. Otherwise, we ship based on the product name.
Speyburn Single Malt 10 Years
Pretty much the only expression of Speyburn on the market until 2008. The 10-year-old may now have stablemates but it still keeps its place as the easy-drinking center of the range. Speyburn Single Malt continues to gather quiet momentum in the wake of updated packaging and 2012's shock World Whisky Award win for the 25-year-old.
This 10-year-old single malt was a gold medal winner at the 2006 San Francisco World Spirits Competition. A classic from the Speyburn distillery.
Distilling its first batch of whisky on Dec. 15, 1897, founder John Hopkins worked for his staff feverishly for the next two weeks to get the first cask filled by Dec 31, hell-bent on having at least something stamped with the year of Queen Victoria's Diamond Jubilee. For my fellow Americans, a Diamond Jubilee marks a British monarch's 60th anniversary of ascending to the throne.
In a lush region with particularly pure water, Speyburn Single Malt was built along the Granty Burn, a tributary of the River Spey that the distillery claims has "exceptionally pure waters."
The 10-year-old is on the more affordable side of Speyburn's range, aged in American oak casks that formerly held bourbon and sherry (not sure of the order), and aiming to embody the "delicate, fruity character" that typifies Speyside Scotch.
Traditional distilling methods have remained unchanged for nearly a century, resulting in this classic single malt. Speyburn 10 years old has a firm, yet subtle, flavor with a dry warming oaky finish.
Nose:
A fruity nose with hints of orange, mandarin, and cooking apple. A touch of oak, peppermint, and spice.
Palate:
A light, gentle palate with soft malt, sweet, toasty barley with licorice and dried herbs.
Finish:
Just a touch of smoke trails off on the finish.