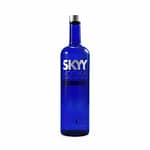 Skyy Vodka 1 Liter
$121.16
Product images are for illustrative purposes only and may differ from the actual product due to label and design changes. Please contact us first if you are looking for specific versions. Otherwise, we ship based on the product name.
The crystal-clear Skyy Vodka from the United States is not only visually a winner but it also promises a first-class taste, which has a worldwide reputation.
The soft, balanced aroma can be smelt, tasted and seen. Skyy Vodka is one of the purest of its kind and proves that Russian manufacturers are not the only ones who know their stuff.
Entrepreneur and Vodka lover Maurice Kanbar established the superior brand Skyy Vodka in 1992 after searching for a better Martini. He concluded that to make the best Martini he needed a superior Vodka. The special Distillery keeps the spirit exceptionally clear and also completely eliminates contaminants. The Vodka was named after the beautiful San Francisco intense blue sky.
The medium-bodied Skyy Vodka is considered especially soft and mild, which due to high-quality American wheat from the Mid-West, as well as the especially pure water of California. The palate is plesantly spoilt by coriander, slight pepper and anise notes giving the mouth a nice dry creamy feel.
Skyy Vodka is traditionally served pure or on ice. Hardly any other Vodka promises so much aroma and flavour intensity and passion as the Americans trendy drink.
Colour:
Clear and translucent, Skyy Vodka 1L has the appearance of a classic vodka.
Aroma:
A strong alcoholic atmosphere greets the nose, with accompanying notes of light grains.
Taste:
The flavour profile falls on the neutral side with a soft and smooth character, with the burning sensation of alcohol lasting on the palate. The finish is not quite long, with some peppery notes, along with anise and coriander.