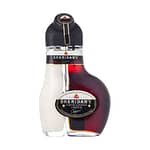 Sheridans Coffee Layered Liquor 1 Liter
Sale!
Sheridans Coffee Layered Liquor 1 Liter
-11%
Product images are for illustrative purposes only and may differ from the actual product due to label and design changes. Please contact us first if you are looking for specific versions. Otherwise, we ship based on the product name.
Sheridans Coffee Layered Liquor
Sheridans Coffee Layered Liquor comes with this wonderfully layered coffee liqueur. Before you even take a sip, it just looks awesome. The white liqueur boasts white chocolate richness, while the black liqueur is full of warming coffee, chocolate, and nutty notes. Combine them together and it makes a delightful Irish coffee or is perfect for making other layered cocktails.
Sheridans Coffee Layered Liquor has become the new American sweetheart. In a unique presentation of two fused bottles, one containing a dark coffee liqueur and the other, a smooth white vanilla melt in your mouth liqueur. Pour it over ice and enjoy the best drink you have ever had.
This gorgeous Irish Coffee is produced in Dublin, Ireland, and is the registered trademark of Diageo, the makers of Baileys. This coffee liqueur is a result of a perfect blend of white liqueur consisting of cream and alcohol, together with the intricate fusion of coffee and whiskey. Both the white liqueur and the black liqueur are contained in their own sections of the bottle, and when poured through the ingeniously designed bottle, settle to form the perfect Irish Coffee.
Sheridan's is a unique liqueur consisting of two bottles that, when layered in the correct proportions, resemble a terrific Irish coffee.
A superb liqueur from the makers of Baileys. This unique bottle combines two elements that are poured at the same time to create a layered drink that looks like an Irish coffee.
Product Details
Brand: SHERIDAN'S
Flavor: Vanilla, Chocolate, Coffee
Alcohol: 15.5 Percent by Volume
Alcohol type: Liqueurs
Nose:
Once served in a glass, liquor exhales vanilla, rich chocolate, and toffee.
Palate:
The attack is surprisingly soft and the creamy palate is rich, full of complimentary flavors of cream, coffee, chocolate, the lingering finish has notes of nuts and toasted hazelnuts.
Enjoy
Serve in a Rocks glass or tumbler by first pouring in the black liqueur.