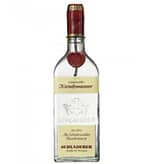 Schladerer Kirschwasser 375ml
Sale!
Schladerer Kirschwasser 375ml
-12%
Product images are for illustrative purposes only and may differ from the actual product due to label and design changes. Please contact us first if you are looking for specific versions. Otherwise, we ship based on the product name.
Schladerer Kirschwasser is a family-run distillery company founded in 1844 in Staufen, Germany. This is their Kirchwasswer (Cherry) brandy. Made using cherries from the foothills of the Black Forest, this has notes of cherry and almond.
The most famous of a range of Eaux de vie made by the family-owned and highly regarded Alfred Schladerer. This kirsch brandy is distilled from sweet cherries, mainly Dollenseppler, Schwarze Schüttler, and Benjaminler harvested from the foothills of the Black Forest using copper pot stills.
Our native sweet cherries come from prime locations in the Black Forest and include the time-honored varieties Dollenseppler, Schwarze Schüttler, and Benjaminler. The highly aromatic cherry bouquet, combined with almond-like nuances, is accentuated by the light aromas of dark chocolate. The palate will savor the lingering rich cherry finish for a long time.
Schladerer Kirschwasser is an Eau de Vie (more specifically a Kirsch) made from cherries from Germany's famous Black Forest and distilled in copper pot stills in small batches. It does not use bulk ethanol and chemical flavors like some of its competitors. It uses a much more true (but expensive) process requiring about 10 kilos (22 pounds) of cherries for each bottle and is from a traditional area of production.
Appearance:
(sample bottle certificate No. 2101) Crystal clear.
Aroma:
Clean fragrant cherry skin and almond cherry stone with linseed oil.
Taste:
Wonderfully clean with black pepper, cherry, and cherry stone. Silky mouthfeel enlivened by light peppery spirituous spice.
Aftertaste:
Cherry with black pepper spice.
Overall:
Intense and fresh cherry with almond and linseed oil-like silkiness, enlivened by a touch of peppery spirituous spice.