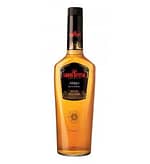 Santa Teresa Ron Gran Reserva Anejo 750ml
Sale!
Santa Teresa Ron Gran Reserva Anejo 750ml
-10%
Product images are for illustrative purposes only and may differ from the actual product due to label and design changes. Please contact us first if you are looking for specific versions. Otherwise, we ship based on the product name.
Santa Teresa Ron Gran Reserva Anejo
Santa Teresa Ron Gran Anejo Gran Reserva is a superb Venezuelan rum aged in oak for up to 5 years. Santa Teresa recommends this in cocktails, and it is notable for its delicious aroma.
Teresa holds the honor of being the world's first solera-style rum; a style that has grown in popularity especially among rums produced in former Spanish colonies. This is made with a blend of rums aged in an American oak cask for up to five years.
The Santa Teresa brand hails from Venezuela. The Hacienda Santa Teresa is situated in the valleys of Aragua near the capital Caracas. The estate was founded way back in 1796.
Hacienda Santa Teresa grows and harvests their own estate sugar cane. Once the juice is extracted, the remaining molasses is used to produce Santa Teresa rum. The molasses is then fermented for 12-16 hours. The resulting wash of around 8% ABV is then distilled on either a Continuous Column Still or a Copper Pot Still.
Founded in 1796 by the count of Tovar, Hacienda Santa Teresa has been one of Venezuela's leading rum producers for over 200 years. Ron Anejo is blended from premium rums that have been aged in oak casks between 2 and 5 years, resulting in a smooth, balanced spirit with rich, fruit-forward notes of citrus, coconut, and banana.
Aged for 5 years for the ultra-smooth character. Sugar cane and fruit to the nose, with an equally sweet and fruity palate entry with a slight woodiness.
Nose:
Mature honey and molasses. Lots of fruit.
Palate:
Mixed peels, pepper, hay, plenty of creaking oak.
Finish:
Long and fruity. Woody spices and Demerara sugar.