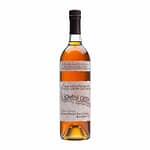 Rowans Creek Kentucky Bourbon Whisky 750ml
Sale!
Rowans Creek Kentucky Bourbon Whisky 750ml
-20%
Product images are for illustrative purposes only and may differ from the actual product due to label and design changes. Please contact us first if you are looking for specific versions. Otherwise, we ship based on the product name.
Rowan's Creek Kentucky Whisky- Bringing your nose to the glass and your olfactory is treated to caramel and vanilla layered on herbal and floral notes. The mouthfeel starts oily but finishes dry. On the palate you are treated to sweet caramel, vanilla, dusted in floral notes… finishing notes of oak and lingering spiciness.
Nose: Sweet, unctuous bourbon with a corn-heavy sweetness upfront, and a dense oak profile. After a rest in the glass, it's still fairly shy.
Palate: Medium-bodied. Powerful tongue burns, as expected for 100 proof. Oaky, with a dark sappy sweetness and a heavy dose of concentrated rye spices. Reminds me a bit of allspice dram with all the clove and pumpkin-spice flavor.
Finish: Medium-long. A continuation of the oak-dominated sweetness from the palate. Fades gradually without evolving.
With Water: Several drops of water seem to have no effect on the aroma or palate. They do add a welcome nuttiness to the finish. Water optional, but not a terrible idea.
Overall: Despite the deceptive complexity of the oak-derived flavors (resin, sap, oak tannin, etc.) there isn't much else going on here. The dose of rye spice is patchy and inconsistent, and the sugar notes are one-dimensional.
Buy this product at sendgfts.com
| | |
| --- | --- |
| Category | Bourbon |
| Region | United States, Kentucky |
| Brand | Rowan's Creek |
| Alcohol/vol | 50.05% |
| Proof | 100.00 |