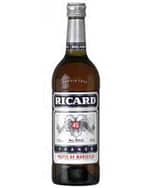 Sale!
10%
Ricard Pastis 1ltr
$96.98 
Product images are for illustrative purposes only and may differ from the actual product due to label and design changes. Please contact us first if you are looking for specific versions. Otherwise, we ship based on the product name.
Ricard Pastis
A pastis with strong liquorice and aniseed flavors, Ricard is delicious when diluted with very cold water. Massively popular with the French, this is Marseille's answer to Pernod, and is best served long with still mineral water and plenty of ice – a great aperitif.
Ricard is the number one pastis, or aniseed-flavored beverage, in the world. A refreshing aperitif, Ricard is a long-time favorite in France and is a blend of natural ingredients, unaltered since its creation by Paul Ricard in 1932.
Ricard Pastis can be enjoyed neat or on the rocks, but it is most commonly mixed with water. When diluted with water, the liqueur turns a cloudy white color, which is why it is sometimes referred to as "milk of Ricard." Ricard Pastis is also a popular ingredient in cocktails, such as the classic French 75.