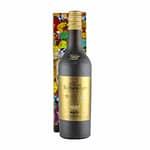 Rhum Barbancourt 15 Years Old Estate Reserve Rum Haiti 750ml
Sale!
Rhum Barbancourt 15 Years Old Estate Reserve Rum Haiti 750ml
-10%
Product images are for illustrative purposes only and may differ from the actual product due to label and design changes. Please contact us first if you are looking for specific versions. Otherwise, we ship based on the product name.
Rhum Barbancourt 15 Years is truly one of the world's greatest rums, this Haitian rhum agricole is distilled prior to a 15 year maturation in Limousin white oak barrels. The nose is full and fruited with mature spices. Luscious, full mouth-feel with flavors both complex and poised. Rhum (French for Rum) Barbancourt is both distilled and bottled by Societe du Rhum Barbancourt, in Port Au Prince, on the Isle of Haiti. Founded in 1862, by Dupré Barbancourt, the company has been passed down through generations. The French spelling for for this Caribbean elixir may be off by one letter, However, the differences between Rhum and Rum are much more complex than this small grammatical twist.
Société du Rhum Barbancourt, is one of Haiti's oldest, and its rum is one of the country's most famous exports, widely regarded as among the finest rums in the world.The family business began on March 18, 1862, producing rum directly from sugar cane juice. Dupré Barbancourt, a Frenchman from the cognac-producing region of Charente emigrated to Haiti, and founded his company at the end of 1862.
Size: 750mL
Proof: 86 (43% ABV)
Age: 15 Year
Origin: United States
Distillery: Rhum Barbancourt
Tasting Notes Of Rhum Barbancourt 15 Years
Nose:
Roasted almonds and candied citrus fruit.
Palate:
Baked pears, cinnamon, butterscotch, and lime zest.
Finish:
Smooth, smoother, smoothest… With trailing spices and honey.