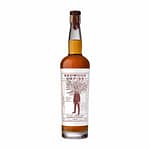 Redwood Empire Pipe Dream Bourbon Whiskey 750ml
Redwood Empire Pipe Dream Bourbon Whiskey 750ml
$115.00
Product images are for illustrative purposes only and may differ from the actual product due to label and design changes. Please contact us first if you are looking for specific versions. Otherwise, we ship based on the product name.
The Redwood Empire pipe Dream Bourbon Whiskey is produced by the Graton Distilling Company in Sonoma County. Named for the 14th tallest tree on the planet, Pipe Dream is our first Bourbon whiskey. Redwood Empire pipe Dream Bourbon is made from barrels aged between four and twelve years with a high corn mash bill. Smooth and complex, it is a true sipping whiskey. Rich, deep, and complex with roasted pecan, vanilla, and lingering char and woody notes. Smooth with a hint of black pepper on the finish.
Nose:
The nose is fairly sweet. It starts with notes of candied orange (almost like an orange marmalade), and transitions into a cherry syrup. Corn is very noticeable, but not in a way that typically denotes a young bourbon. There is a certain musty funk to it, likely from the older-aged barrels. It is a pretty nice, thick nose.
Palate:
The palate is medium-thick. The very first thing that I pick up is corn. Sweet corn is present all throughout the palate. Next up are notes of orange marmalade, that stick to the mid-palate pretty well. This then transitions to that nice cherry syrup flavor on the back palate. There are some darker, almost grape-like flavors on the front of the palate that disappear after the whiskey is swallowed. This is a very nice palate for a lower-proof bourbon!
Finish:
The finish is medium and begins with orange marmalade notes on the mid-palate. These transition to oak spice and bread notes, that eventually coat the entire palate, including the roof of the mouth.