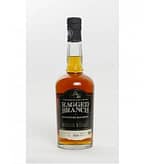 Ragged Branch Signature Virginia Straight Bourbon 750ml
Sale!
Ragged Branch Signature Virginia Straight Bourbon 750ml
-10%
Product images are for illustrative purposes only and may differ from the actual product due to label and design changes. Please contact us first if you are looking for specific versions. Otherwise, we ship based on the product name.
Ragged Branch Signature Virginia Straight Bourbon
Ragged Branch Signature Virginia is a craft distillery that makes bourbon — and lots of it: The brand has five different bourbon expressions — and one rye — all produced in house and aged for at least four years (though no formal age statements appear on its bottles). Aside from that, there is limited available information about Ragged Branch's production (such as barrel size), but a little Googling turns up some mash bill information, at least.
Made from a mash of 68% corn, 16% rye, and 16% malted barley. Gritty and pushy with cereal notes, the nose is bold with cloves and a light vegetal character. Some furniture polish elements creep into the mix, too. On the palate, Ragged Branch Signature Virginia a big punch of popcorn and well-toasted grains, plus lots of char before a wave of butterscotch sweetens things up a bit. While it slowly opens up from a daunting start, notes of tobacco and toasted oak keep the experience in check. Lingering vanilla and a light chocolate note, along with a hint of berries, give the finish a pop. 90 proof.
Tickles The Tongue With Spicy Rye And Vanilla Tones. Finishes Smoothly And Sweetly. After Adding A Spoonful Of Water, The Fragrance Of Sweet Tobacco Comes Through And Opens The Palate To A Softer Spice, Leaving A Pleasant Flavor Of Caramel Corn.
Details:
45% ABV. Made from a mash of 66% corn, 17% wheat, and 17% malted barley.
Category: Bourbon
Varietal: Virginia Straight Bourbon
Region: USA
Brand: Ragged Branch
Nose:
Earthy with cinnamon candies, fresh-cut lumber, dried fruit, and creamed corn.
Mouth:
Nice thick mouthfeel. Spicy and sweet with honey, allspice, cornbread, and dried fruit.
Finish: 
On the longer side of the medium. It starts sweet and spicy but that fades into a warm drying sensation.