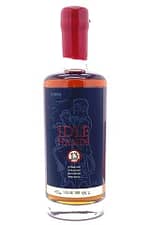 Proof & Wood Idle Hands 5 Year Old Bourbon Whiskey 750ml
Sale!
Proof & Wood Idle Hands 5 Year Old Bourbon Whiskey 750ml
-20%
Product images are for illustrative purposes only and may differ from the actual product due to label and design changes. Please contact us first if you are looking for specific versions. Otherwise, we ship based on the product name.
Proof & Wood Idle Hands is the most recent Dave Schmier release. Dave is the creator behind The DC Line(Senator, Ambassador, The Justice, Representative, etc), Tumblin Dice and Roulette Rye. Not to mention, Dave was also the creator behind the original Redemption Rye.
Proof & Wood Idle Hands was named after a now gone East Village Rock n' Roll, Beer Whiskey and Burger Bar.  Idle Hands had a great American Whiskey and Beer selection and no phony pretense, great place to explore beer and bourbon with friends and a great soundtrack. Dave worked with the former owner bar Rob Morton to blend 2 thirteen barrel batches of 5+ YO Bourbon.  Bourbon is all the same Heavy Rye mash bill used in Tumblin' Dice.  Indiana distilled – 60% Corn, 36% Rye, 4% Barley.  Proof point range was selected to Rob's preference.
This release is a Follow up to the 2019 Idle Hands that was a NY-only edition of about 219 bottles.  That one featured 2 13 yo barrels of Bourbon and quickly sold out.  This one is a great sipper and at a more accessible price point.  Total of about 1,000 6-bottle cases produced for select national distribution.
Schmier calls this "American table whiskey — good solid whiskey for everyday use." 75% corn, 21% rye, 4% barley, at least two years old. Distilled in Indiana. As Schmier notes, this is surprisingly good and solid stuff considering its age and price tag. The nose is lightly toasty with oak and laced with notes of chocolate, caramel, and vanilla. The palate is soft and approachable, its woody elements balanced delightfully with a second slug of cocoa, more vanilla, and a hint of cinnamon.