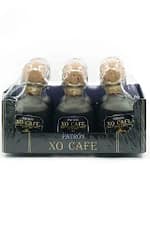 Patron Xo Cafe Liqueur 6 X 50 Ml Bottles
Patron Xo Cafe Liqueur 6 X 50 Ml Bottles
$183.00
Product images are for illustrative purposes only and may differ from the actual product due to label and design changes. Please contact us first if you are looking for specific versions. Otherwise, we ship based on the product name.
Patron Xo Cafe Liqueur 6 X 50 Ml Bottles
This is a sleeve of six (6) of the Patron XO Cafe in 50 ml "miniature" bottles. Patron XO Cafe Liqueur is a dry, low-proof coffee liqueur that's a blend of Patron Silver and the essence of fine coffee.
Patron XO Cafe Liqueur is an extraordinary blend of ultra-premium tequila and the natural essence of the finest coffee. Unlike most coffee liqueurs, the taste is more dry than sweet. Made to be served in a 'sipper' glass rather than a shot, Patron XO Café 50mL is the perfect size for such an experience.
It's excellent for sipping, mixed in cocktails or as a dessert ingredient.
Product Description
Type: Tequila
Size: 50mL
Alcohol Volume: 35%
Country: Mexico
Brand Name: Patron
Patron XO Cafe Liqueur has a dark, rich brown color. The aroma offers fresh coffee, chocolate, and vanilla. The finish is smooth, yet dry. It has bottled at 35% alcohol by volume.