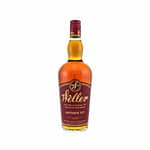 Old Weller Antique 107 Proof Bourbon
Old Weller Antique 107 Proof Bourbon
$273.00
Product images are for illustrative purposes only and may differ from the actual product due to label and design changes. Please contact us first if you are looking for specific versions. Otherwise, we ship based on the product name.
Old Weller Antique is a wheated bourbon originally created by the Stitzel-Weller Distilling Company. The brand is named after William Larue Weller, a distiller who is credited by some as being the first to use wheat as the secondary grain in straight bourbon as opposed to the more commonly used rye.
Notably, William Larue Weller hired the famous Julian Van Winkle, who would later be known as "Pappy." Van Winkle began his career working for Weller. The companies worked together through Prohibition operating under a medicinal license, and eventually became the Stitzel-Weller Distilling Company in 1935.
NOSE:
Aromas of lush dark fruit burst forth from the glass and combine with vanilla and caramel. There's a healthy dose of seasoned oak which provides dimension. Finally, it's punctuated with a pop of cinnamon bark spice and traces of black licorice. It's balanced, complex, and well-developed.
palate:
The first thing I notice is how full-bodied and oily the bourbon feels rolling around in my mouth. Cinnamon spice grips the taste buds, followed by cherries, dark fruits, raw sugar, and aged oak. The proof is quite manageable, and arguably a bit understated as the flavors really take charge versus any sign of heat. This combination of a rich, heavy mouthfeel and cinnamon against dark fruit and oak is as pleasing as it is delicious.
finish:
A crescendo of cinnamon spice introduces the finish. Sweeter notes of caramel and vanilla follow. A flavor is akin to tobacco hints in the background though it's subtle and hard to pinpoint. An undercurrent of cinnamon remains throughout and then lingers. Quite pleasant.
uniqueness:
The list of bourbons with wheat as the secondary grain is still much less than rye, however, it is growing. In addition to the Weller line, the most notable are Maker's Mark and Larceny, two widespread ongoing releases from large Kentucky distilleries much like Antique. Higher proof versions of each are also available, with Maker's having released
Maker's Mark
Cask Strength and Larceny Barrel Proof coming to market.