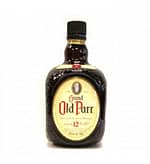 Old Parr 12 Year Old 750ml
Sale!
10%
Old Parr 12 Year Old 750ml
$104.98 
Product images are for illustrative purposes only and may differ from the actual product due to label and design changes. Please contact us first if you are looking for specific versions. Otherwise, we ship based on the product name.
Old Parr 12 Year Old
Rare to see a bottle of Old Parr 12yo on these shores – this deluxe blend is mostly the preserve of overseas markets. On the nose, the whiskey is malty, very scented, cake-like. Big on the palate; notably firm-bodied and malty, with notes of grain and toasted sesame seeds and a touch of honey. The finish is soothing and long, developing slight lemongrass and peatiness.
A 12-year-old expression of Old Parr blended Scotch whisky. The brand was named for Old Tom Parr, who was said to have been the oldest man in Britain, living until he was 152 years old! This is a 1-liter bottling.
Its flavor is much cleaner and smoother than most of its market equivalents, but it has some unique characteristics. I have always sensed some apple and raisin undertones, and perhaps a little bit of peat. Additionally, it has a crisp after taste that is very satisfying.
The Grand Old Parr is a 12 year blended whisky that is as good if not better than any of the other mass markets blended whiskies out there. Its presentation is totally unique. It is generally sold in a gold box and always in a square brown bottle with an interesting texture on the outside.
Nose:
Plenty of fresh fruit. Apricot, apple, peach, white grape. Dried tropical fruits. Grainy, with notes of barley and corn. Caramel. Some woodiness. Light but nice. Rather enjoyable, especially for an inexpensive blend.
Palate:
Lightly fruity, with plenty of caramel. Peach. Apricot. Dried mango. Simple syrup. Just a whiff of peat smoke, barely detectable. A drop of sherry. The flavor is a bit thin, but the mouthfeel is surprisingly oily and creamy, which rescues the palate from boredom.
Finish:
Short and sweet. Not much to report here apart from a bit of sweet vanilla syrup and a hint of apricot. Doesn't stick around.