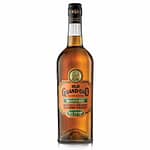 Old Grand Dad Bonded 100 Proof American Whiskey 750ml
Old Grand Dad Bonded 100 Proof American Whiskey 750ml
$74.98
Product images are for illustrative purposes only and may differ from the actual product due to label and design changes. Please contact us first if you are looking for specific versions. Otherwise, we ship based on the product name.
Old Grand Dad Bonded is part of an Old Grand Dad brand that was launched by Raymond Haden in the 1840's and named for his grandfather Basil Hayden. The Haden's distilling days reach back to the 1790's after the family moved from Maryland to Kentucky. Today, the brand resides with Beam-Suntory.
Old Grand Dad is unique in the Beam line with a high rye recipe. The current recipe for the line of Old Grand Dad Bourbons is thought to be similar to the original recipe back in the day. While the recipe is unique among Beam's Bourbons, it seems to me it shares the standard Beam yeast.
The Old Grand Dad family consists of a standard 86-proof, a 100-proof bottled in bond (reviewed here) and a 114-proof barrel strength. Bottled-in-Bond is a certification requiring the Bourbon to be distilled during the same year and from the same distillery. It must also be aged in a bonded warehouse for at least four years. Lastly, the Bourbon is to be bottled at 100-proof. Bottled-in-Bond seems to be a bit of a relic these days, however, a lot of older labels retain the certification. These less trendy bottles with their amble 100-proof can make for a great value.
Tasting Notes:
Color:
Honey Blonde
Nose:
Smells a bit astringent, very wood-y, like cedar and hay. Then I get raspberry and green grapes. There's also some vanilla and toasted coconut.
Taste:
Tastes like butter and its oily. Sounds weird but it's good. Then, I get lots of sugar cane, little bit of tobacco, dark chocolate.
Finish:
Light finish, has a dark chocolate sweet and bitter finish, warms your throat, but not hot. The last flavor left over in mouth is sugar cane, which is why it seems so sweet to me. It's like the energizer bunny of sugar cane.
| | |
| --- | --- |
| Category | Whiskey |
| Region | America, Whiskey |
| Brand | Old Forester |
| Alcohol/vol | 50% |