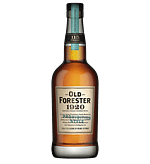 Old Forester 1920 Prohibition Style Kentucky Straight Bourbon 750ml
Old Forester 1920 Prohibition Style Kentucky Straight Bourbon 750ml
$144.96
Product images are for illustrative purposes only and may differ from the actual product due to label and design changes. Please contact us first if you are looking for specific versions. Otherwise, we ship based on the product name.
Old Forester 1920 Prohibition Style is the third expression in the Old Forester Whiskey Row Series. According to the neck tag on the bottle, "During Prohibition, only six Kentucky distilleries were granted permits to bottle bourbon for medicinal purposes. Brown-Forman, the maker of Old Forester 1920 Prohibition, secured Permit KY – 3. In 1920, the first bottles under this permit were produced." It goes on to say "To match the usual barrel proof of that bourbon after maturation, it is presented at 115 proof."
The aroma is rich and powerful. Dark fruit, burnt brown sugar, chocolate, and a hint of bananas make up the components. Not surprising for the proof, it tingles the nostrils with a trace of ethanol. It's a nice aroma overall and can be easily described as unique relative to other bourbons.
palate:
It's big, bold, and immediately likable. The richness of barrel char and dark chocolate play against the sweetness of caramel and creme brulee. There's a nuttiness to it as well, along with some smokiness and a hint of coffee. The taste is reminiscent of some of the better Old Forester Birthday Bourbons I've had, but admittedly more pronounced and, to put it bluntly, better than I remember.
Finish:
Allspice and black pepper pop initially. They quickly dissipate and leave a long-lingering finish without further introduction of new flavors, but a pleasing end to those introduced on the palate. Dark chocolate, barrel char, and that nuttiness are the most prominent. It's a nice finish, plain and simple.
Uniqueness:
One of the first things that come to mind with this bourbon is a likeness to a stout beer, no different than what I noticed in Old Forester's 2013 Birthday Bourbon. That's not to say it tastes like a beer, but where porters and stouts are often rich, chocolatey, dark beers, 1920 is a rich, chocolatey, dark bourbon. This characteristic is evident immediately. Not surprisingly, I prefer darker beers and also really enjoy this bourbon. It's one of the few bourbons I've ever had that I took an instant liking to on my first sip.
| | |
| --- | --- |
| Category | Burbon |
| Varietal | Kentucky Straight Bourbon |
| Region | USA |
| Brand | Old Forester |