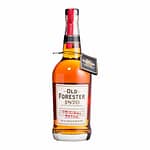 Old Forester 1870 Original Batch Bourbon Whiskey
Old Forester 1870 Original Batch Bourbon Whiskey
$115.00
Product images are for illustrative purposes only and may differ from the actual product due to label and design changes. Please contact us first if you are looking for specific versions. Otherwise, we ship based on the product name.
In 1870 George Garvin Brown created Old Forester on Louisville, KY's, famous Whiskey Row. In honor of that milestone year in bourbon history, we have crafted a tribute to Old Forester 1870 Original Batch the first expression in the Old Forester Whiskey Row series.
1870 Original Batch echoes George Garvin Brown's original batching process. Back then, Brown batched barrels obtained from three distilleries to create a consistent flavor profile. To emulate that process today, we also select barrels from three warehouses, each barrel originating from a different day of production, with a different entry proof and a different age profile. The three expressions of Old Forester are then batched together and minimally filtered to craft Old Forester 1870 Original Batch.
Old Forester 1870's name refers to the year that Brown-Forman founder George Garvin Brown began batching whiskey from three different distilleries to ensure a consistent product. 1870 Original Batch is also blended by Marianne Barnes, the protégé of Brown-Forman's master distiller, Chris Morris. It is said this would make 1870 the first bourbon from a major producer blended by a woman in the modern era. The first batch of 1870 was 36 barrels. Brown-Forman intends for this to be a permanent brand.
NOSE:
Very bright and lively with its fruity and floral notes at the forefront. Underneath, vanilla and caramel provide the base and a delightful amount of oak is mixed in.
palate:
This a bourbon that actually tastes as it smells. It's a delightful mingling of vibrant fruit flavors. The sweetness from the caramel and an agreeable amount of oak make this an easy to enjoy bourbon.
finish:
Despite a light body and thin mouthfeel, it has a really nice finish. As the sweetness trails off it finish with cinnamon, nutmeg, and a mix of other baking spices. A light amount of oak can also be tested throughout the finish and helps provide a lasting aftertaste.