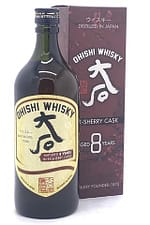 Ohishi 8 Year Old Sherry Cask Japanese Whisky 750ml
Sale!
Ohishi 8 Year Old Sherry Cask Japanese Whisky 750ml
-20%
Product images are for illustrative purposes only and may differ from the actual product due to label and design changes. Please contact us first if you are looking for specific versions. Otherwise, we ship based on the product name.
The spirit is distilled and bottled at Ohishi 8 Year Old Distillery located near the fast-flowing Kuma River in Japan. Unlike other whiskies which have their production techniques firmly rooted in the Scotch single malt tradition, Ohishi utilizes malted and unmalted rice in lieu of malted barley. Rice can't be malted in the same way as barley, so "malted" in this context often refers to rice innoculated with kome-koji, a mold also used in sake production. Specifically, gohyakumanishi rice is married with mochi rice in the mash bill, with the former grown while using koi fish as a form of chemical-free weed eradication.
The Ohishi 8 Year Old Whisky is distilled in traditional Japanese stainless steel pot stills before getting some beauty rest in ex-sherry and brandy casks, in the mountainous Japanese countryside. Being aged at such high altitudes yields an elegant Sherry symphony. This Ohishi Sherry Cask is a blend of casks anywhere from 3 to 25 years old.
From the Kumamoto Prefecture on the island of Kyushu in Japan, the Ohishi Sherry Cask is a whisky distilled from rice and aged in first and second fill sherry casks. The Ohishi Distillery uses at least 30% gohyakumanishi rice grown on its own fields, rounded out with mochi rice Kumamoto. Founded in 1872, this is one of the oldest distilleries in Japan, located on the banks of the Kuma River, a water source that is prized for its purity.
Nose:
The nose is rich with sherried, full of raisined fruit and baking spice, notes of oak, nuts, citrus, grains, pepper, brown sugar, and dried flowers.
Palate:
On the palate, there are dried cherries and apricots, vanilla, oak, citrus, floral notes, and spices.
Finish:
Hints of cocoa on the finish.