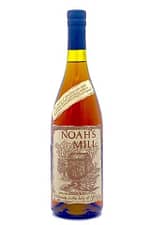 Noahs Mill Cask Strength Bourbon Whiskey 750ml
Sale!
Noahs Mill Cask Strength Bourbon Whiskey 750ml
-15%
Product images are for illustrative purposes only and may differ from the actual product due to label and design changes. Please contact us first if you are looking for specific versions. Otherwise, we ship based on the product name.
Noah's Mill Cask Strength Bourbon Whiskey is a 57.15% ABV barrel proof bourbon that is remarkably silky, as smooth as cashmere and creamy textured. This bourbon offers lots of smoky marmalade, caramel, toffee and new saddle leather-like characteristics. It is a fabulous, intriguing, distinctive bourbon. 96 points rated Noah's Mill Small Batch Boutique Bourbon is handmade in the hills of Kentucky.
Surprisingly elegant at 114.3 Proof, which is perhaps odd to say about a whiskey at near-barrel strength, but it drinks more like a 100 Proof Bourbon Whiskey. With an intensely smoky aroma, you get the rye showing its face on the front end with a nice creaminess and subtlety on the back end. The finish is long with hints of chocolate and rich caramel.
Noah's Mill Cask Strength is an outstanding old small batch bourbon, containing whiskeys between 4 and 20 years old. Quite rare this, and very enjoyable in an old-fashioned.
Noah's Mill is an winning product from Willet Distillery. Noah's Mill is small batch, making their product harder to find. It's a high-corn Bourbon aged an average of about fifteen years (though some of the spirit is up to twenty years old).
It comes bottled at a cask strength 57.15% ABV, in a green-glass bottle with an old fashioned label. The aroma is abundant with red fruits, oak, and sweet vanilla.
The palate shows every inch of age with notes of brown sugar leather, and cherry Brandy. The finish is long, warming and filled with light spice.
A really outstanding and difficult-to-find small batch spirit, aged for many years before bottling, Noah's Mill is highly sought after by collectors and connoisseurs alike.