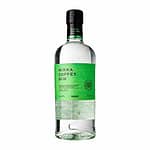 Nikka Coffey Gin 750ml
$135.00
Product images are for illustrative purposes only and may differ from the actual product due to label and design changes. Please contact us first if you are looking for specific versions. Otherwise, we ship based on the product name.
Nikka Coffey Gin features a selection of enjoyably vibrant botanicals, including amanatsu, kabosu, shikuwasa and yuzu, as well as sansho pepper, among others.
Distilled in Nikka Whisky's signature "Coffey Still", the rich and mellow spirit at the heart of this gin is characterized by a luxurious and silky texture. In addition to traditional gin botanicals, its stunning aromatic complexity relies on the refreshing burst of Japanese citrus such as Yuzu, Kabosu, Amanatsu and Shikuwasa, the delicate fruitiness of apples, and pleasantly tangy hints of Japanese Sansho pepper on the finish.
Tasting Notes Of  Nikka Coffey Gin
Nose :
First pour reveals a distinctly citrus-forward aroma. Notes of Amalfi and Meyer lemon zests with a delicate menthol-kissed black pepper note.
Palate :
On the palate, Nikka Coffey Gin tastes wildly unlike any other gin I've tried. Which I find amazing to say after having as many gins as I have. It has a sourness that is tart, yet not astringent whatsoever, and a really acerbic finish, Lemon and orange build at first, suddenly peaking with a burst of lemon zest, and then shiso. Nikka Coffey Gin then abruptly takes a turn in the opposite direction. Lemon pith, bitter orange flesh and a touch of bitter tangerine all combine. Bold, zesty white and black peppercorn crunches and wormwood.
Finish :
The finish is exceptionally long. It's very bitter to me, reminiscent of biting directly into a hop. The citrus tinged bitterness gets very hoppy towards the end. Fans of beers will liken it to an IPA.