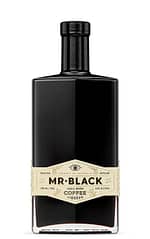 Mr. Black Cold Brew Coffee Liqueur 700ml
Sale!
Mr. Black Cold Brew Coffee Liqueur 700ml
-20%
Product images are for illustrative purposes only and may differ from the actual product due to label and design changes. Please contact us first if you are looking for specific versions. Otherwise, we ship based on the product name.
Mr Black Cold Press Coffee Liqueur hails from Australia. There are only two ingredients: Australian grain spirit and Arabica coffee beans from Papua New Guinea, Kenya and El Salvador. Big and bold, but not too bitter, this works a treat either on its own with ice, or in an Espresso Martini.
Mr. Black Cold Brew Coffee Liqueur is made using Australian grain spirit and beans from three sources – Papua New Guinea, Ethiopia and Brazil. It's cold infused, cold pressed and unfiltered, resulting in an intense flavour profile. Of course, this will be a great addition to a mixologist's tool-kit.
Mr Black Cold Brew Coffee Liqueur is made at a coffee roastery and distillery located just outside of Sydney, Australia. It uses a base spirit of Australian wheat vodka along with cold-brewed coffee made from 100% Arabica coffee beans. No caramel, vanilla, or artificial flavors added.
Mr. Black is a bittersweet blend of high-quality Arabica coffees combined with Australian wheat vodka. Their roasters source specialty beans from the highest quality growing regions to deliver a complex, premium liqueur that is bold, balanced and unapologetically coffee. Each bottle is handcrafted with half the sugar and ten times the coffee of old-world liqueurs. In essence, Mr. Black can be described as "the cold brew liqueur for coffee purists." Enjoy it neat, over ice, or in any number of your favorite coffee cocktails.
Nose:
Freshly ground coffee. Lots of it. Plenty of vanilla too.
Palate:
Continued coffee elements, with a focus on caramel and enjoyably bitter chocolate notes.
Finish:
Espresso hints last with a little bit of sugar.