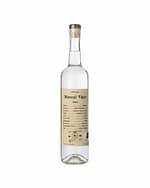 Mezcal Vago Elote Mezcal 750ml
Mezcal Vago Elote Mezcal 750ml
$124.98
Product images are for illustrative purposes only and may differ from the actual product due to label and design changes. Please contact us first if you are looking for specific versions. Otherwise, we ship based on the product name.
The Mezcal Vago Elote Is Made By Aquilino García López At His Palenque In Candelaria Yegolé, Oaxaca (16°29'41.36″N, 96°18'38.69″W). The Elote Uses The Same Agave Espadín Grown Above Aquilino's Palenque In Candelaria Yegolé As The Mezcal Vago Espadín, But Is Infused With Toasted Corn.
The Base For The Mezcal Is A Single Distilled Mezcal Espadín. The Dried Kernels Of Corn Are Toasted On A Comal (Clay, Flat, Wood Fired Pan For Making Tortillas) And Placed In The The Still With The Mezcal To Infuse It's Flavor. The Corn Never Ferments, It Is Strictly Used As A Flavor Infusion, Therefore The Mezcal Vago Elote Is A 100% Agave Spirit. The Batch Is Then Distilled A Second Time, Resulting In A Clear Joven Mezcal With A Subtle Mexican Corn Flavor.
Before Mezcal Vago, Aquilino Infused His Mezcal Espadín With Corn In Between The Second And An Extra Third Distillation. Now That He Is Consistently Distilling The Elote For Mezcal Vago, He Has Changed His Technique To Save Precious Resources. The Change Was Minute, Yet Aquilino And Mezcal Vago Agree The Elote Flavor Is Superior Only Twice Distilled.
This Mezcal Is Unique To Aquilino's Family. Corn And Agave Are The Staples Of Mexico. The Mezcal Vago Elote Represents The True Essence Of Mexico.
The Elote Has A Beautiful Mouthfeel With A Little More Body Than The Mezcal Vago Espadín. The Corn Infusion Is Subtle. The Aroma Has Hints Of Indigenous Mexican Corn And Toasted Nuts. The Food Pairings With This Mezcal Are Limited Only By One's Imagination. The Elote Is An Excellent "Gateway" Mezcal For Whiskey Connoisseurs. It's Uniqueness Has Been Instrumental In Helping Mezcal Vago Gain Respect From The Agave Spirit Aficionado Community. It Is Outstanding On Its Own Or As A Key Ingredient In Craft Cocktails.
| | |
| --- | --- |
| Category | Mezcal |
| Region | Mexico, Mezcal |
| Brand | Mezcal Vago |
| Alcohol/vol | 50.1% |